Baby Floki Up
As the little brother of $FLOKI, Baby Floki Up is here to bring the cutest most inspiring coin of the whole Doge family thanks to the #DogeFather Elon Musk. Similar to Dogecoin, Shiba Inu and $FLOKI, BFU has been birthed by fans all around the world. BFU has learned lessons from these other coins to become the strongest member of the Doge Family thanks to the Buy-back mechanism and rewards system. Ready for the rise of The Doge Family and BFU.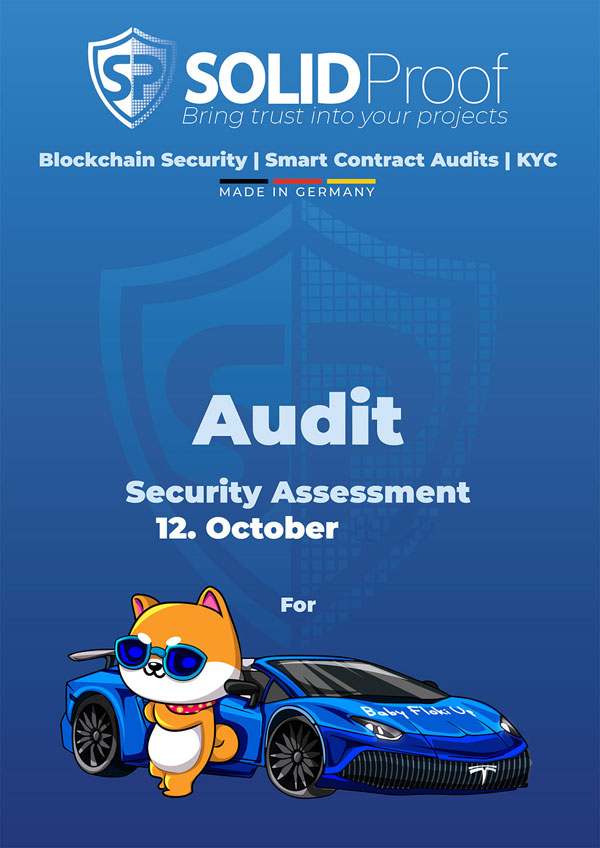 Transparency is one of the most important factors of a successful project. In order to be transparent, BFU is now showing our contract audit from Solidproof - one of the best crypto audit organization. You can easily see that our contract is clean and healthy with no mint function, no sell limit and it cannot lock users fund. Eventually, we will gain the trust of all BFU lovers.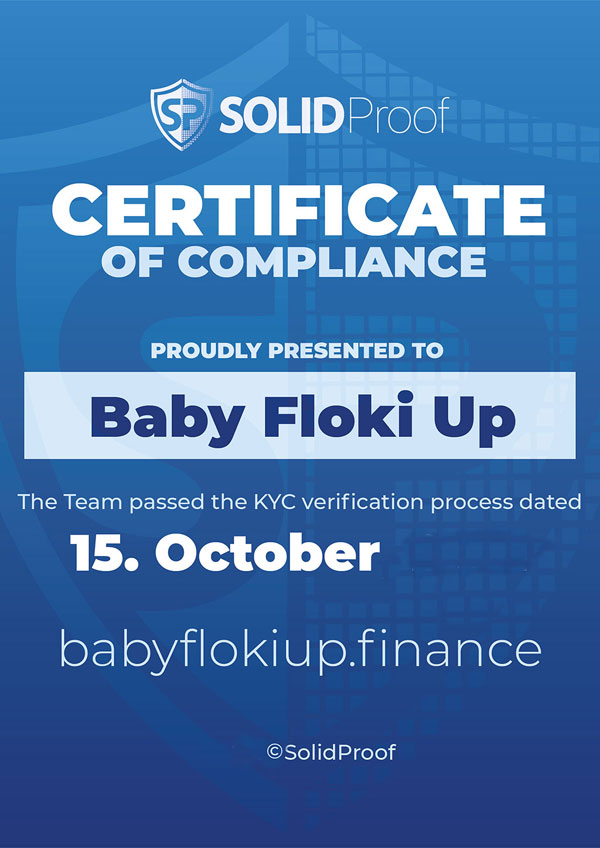 We have also completed KYC process from Solidproof. This means that all the information about our dev team identities and company address are now given to Solidproof. This is an extra step we have taken to ensure compelte transparency and build confidence in BFU.
ABOUT BABY FLOKI UP
Baby Floki Up has two main missions: provide the wealth for humanity as a money maker and creating a healthy - long term development based on the buyback mechanism. In order to do that, our buy-back mechanism has been arranged for the healthy chart of BFU token as well as the automatic rewards system for loyal holders. There will be 6% of taxes for buy-back and 2% for rewards that happen on the contract. Just sleep tight and you can see the amount of BFU continuously rising. The more you keep BFU, the more you get in rewards.

AMM (Automated Market Maker) exchange is now trending and suitable for many investors. So BFU also wants to arrange the best way for new investors in acquiring the BFU token and other cryptocurrencies through our BFUswap as a Dapp with an Exchange function (release at the date of launching token) and farming function (to be launched in December). The Doge Family will rise again.
BUY - BACK MECHANISM
Baby Floki Up is a hyper-deflation member of the Doge Family with an automatic buy-back mechanism built into the contract. There will be a total of 6% of taxes for the system to buy tokens automatically and burn them. Eventually, a healthy development of Baby Floki Up will be arranged which provides wealth for all holders.
MAIN FEATURES
There are 4 main features of Baby Floki Up including buy-back mechanism, reward system, marketing development and sustainable business structure.
Buy - back mechanism
There will be a total of 6% tax for the system to buy tokens automatically and burn them in order to reassure Baby Floki Up holders.
Reward system
There will be a total of 2% tax that will be used for automatic reward in $BFU for BFU lovers.
Marketing development
4% of taxes will be for marketing development. Eventually, this will help us spreadout to the entire world. It's boring to be rich alone, right?
Sustainable business structure
To ensure the long lasting commitment of the Baby Floki Up team, 2% will be for them to help them deliver and complete all of our missions.
ROADMAP
In order to deliver the mission of BFU, a clear BFU map will be described below for all the fans to follow.
• Protocol complete
• Massive Marketing campaign
• Smart Contract Audit
• Coinmarketcap listing
• Launching on Pancakeswap
• CEX listings
• 15,000 rich holders

• 30,000 rich holders
• Continuously marketing campaign
• More CEX listings
• Partnerships


• BFU shows
• More Partnerships
• 60,000 holders
• Tesla and money giveaway
• Donation for poor beings

• Top 50 coinmarketcap
• 100,000 rich holders
• Big CEX listings
TOKENOMICS
We are committed to building communities and development in a sustainable way.
Therefore, all the token metrics including allocation rate and total amount of tokens has been carefully arranged.
Presale
50.00%
(500,000,000,000,000 $BFU)
Add liquidity
37.50%
(375,000,000,000,000 $BFU)
Pinksale Fee
2.00%
(20,000,000,000,000 $BFU)
Marketing
5.00%
(50,000,000,000,000 $BFU)
Airdrop & Reward
3.50%
(35,000,000,000,000 $BFU)
Team
2.00%
(20,000,000,000,000 $BFU)
Binance Smart Chain (BSC)
PARTNERS